Earlier this year, I got to do something I've always wanted to do. I got to join a company I love and admire and work with friends.
I'm incredibly proud of my year at CMX.
When I joined, there was a legacy of great CMX Summits and CMX Series events but not a lot of process and structure. The team was expanding into new areas (like their amazing training course) and we all agreed that CMX Summit needed to become a more efficient machine and CMX Series needed an actual strategic plan.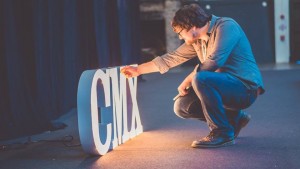 Since then I've run two CMX Summit conferences, greatly improved the documentation and processes around them, and added a bunch of additional creative elements I was excited about (lightning talks, spaces for introverts, more networking opportunities, tracks, improved breakout sessions, and even a marching band). I developed an in-depth plan for expanding CMX Series and helped with the process of hiring someone to run it, which is just one of the things I'm really excited to see from CMX in 2017.
I've accomplished the goals we set out when I joined, and it's time to pass the torch. CMX has the pieces in place to take the company to the next level. The next step is focus. I'm really excited about the team they'll be hiring, which will give them not just more hands on deck but deeper skills and energy in specific areas. There is so much more CMX will do, and I can't wait to see them pull it off in 2017.
I'm wrapping up my time as an employee but I'll always be a member of the CMX community. I've been to all but one CMX Summit (Someday I'll beat your record, Tim Falls!) and been a member of the community since the beginning. Getting to be part of building CMX bigger and brighter has been a dream come true. Now I'm incredibly excited to participate in the CMX community without having to check my spreadsheets and clipboards.
What's next for me?
I'm excited to move on to my next community adventure, and to bring with me everything I learned from being deeply involved in the hub of the industry. I'll spend the first part of the year consulting with as many companies as possible, helping spread the gospel of community and implement all the strategies and tactics that this year has added to my playbook. Later in the year, I'd like to find my next long-term home, a company that wants to invest deeply in community and customers, where I can lead a team and generate win-wins between company, customers, and employees.
If you're interested in working with me as a consultant, check out my new consulting page. If you have a full-time opportunity that you think might be a fit, get in touch. You can find more info about my experience on LinkedIn.
Thank you to everyone who made this a spectacular year. David and Carrie at CMX, who taught me so much. The CMX community, for your endless contributions to our cause. The CMX speakers, who generously donated their time and let me soak up their lessons. All of my friends and colleagues who helped make connections and offer advice.
I will always be a CMXer, and I can't wait to join you in more adventures!